---
Game: Match states on a blank map
Posted: 01 Oct 2012 10:30 AM PDT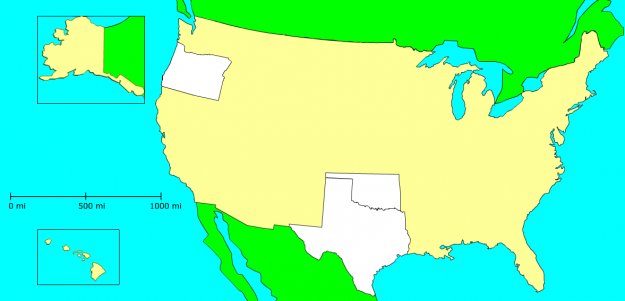 In case you're interested in learning how much you suck at US state geography, here's a game to help. The goal is to match up states on the blank country map, and you end with an average error in miles. I did not do well. [via kottke]
The Common Cook's How-Many Guide to Kitchen Conversions
Posted: 30 Sep 2012 04:25 AM PDT
Is your kitchen drawer a black-hole of utensils? If you never seem to have just the right measuring spoon or cup for your baking endeavor, this guide can help you make the most of the tools you have at hand.
Posted: 01 Oct 2012 09:34 AM PDT
Posted: 01 Oct 2012 08:07 AM PDT
Posted: 01 Oct 2012 08:48 AM PDT
How The Forbes 400 Richest Americans Became Billionaires
Posted: 01 Oct 2012 05:43 AM PDT
If We Assume: US Population By Longitude & Latitude
Posted: 01 Oct 2012 07:21 AM PDT
Posted: 01 Oct 2012 06:38 AM PDT
Changes in U.K. Retirement [Infographic]
Posted: 01 Oct 2012 06:00 AM PDT
As most of us know, retirement and social security are two major issues/concerns for full-time workers in America. As policies change and expand, some people now are less certain than before about what they can expect in their golden years.
As today's infographic from SurveyCompare.net shows us, Americans aren't the only ones who can expect changes to their retirement procedures in the near future: our friends across the pond in the U.K. are doing some changes of their own.
Retirement age in the U.K. is currently 60 years for women and 65 years for men; with planned gradual increases, men and women will both be retiring at 65 by 2018 and 66 by 2020. Not everyone in the U.K. workforce is even sure they want to retire, though. People surveyed ages 18-24 were the least likely to retire with only 7.4% saying they do plan on retiring, and people 55 years and older were the most likely to retire at 47%.
For more information on the retirement tendencies in the U.K. refer to the infographic below. [Via]
---
© Grayson for Daily Infographic, 2012. | Permalink | No comment | Add to del.icio.us
Post tags: britain, British pension, British retirement, British retirement age, British retirement age men, British retirement age women, British workforce, retirement, U.K., U.K. pension, U.K. retirement, U.K. retirement age, U.K. retirement age men, U.K. retirement age women, U.K. workforce

The shifting population of South Jersey
Posted: 01 Oct 2012 02:48 AM PDT
How Much Credit Card Debt is Too Much?
Posted: 01 Oct 2012 03:40 AM PDT
Taking It to the Text Level: Should You Integrate Texting With Customer Service?
Posted: 01 Oct 2012 04:15 AM PDT
Demand for IT Networking Professionals in the USA
Posted: 01 Oct 2012 01:20 AM PDT
STEM Investment: Keeping the U.S. Competitive in a Global Marketplace?
Posted: 01 Oct 2012 12:42 AM PDT
Interesting Aluminum Recycling Facts
Posted: 01 Oct 2012 05:04 AM PDT
Posted: 01 Oct 2012 02:08 AM PDT
Updated Satellite Images from Google
Posted: 01 Oct 2012 04:10 AM PDT
Infographic: Will Going Green Really Save You Money?
Posted: 01 Oct 2012 05:03 AM PDT
With wind farms popping up all over the place and electric cars starting to role onto our roads we decided to take a look into what going green can really mean for your wallet. How can we make our money go further so we are not as short at the end of the month and don't have to really on payday loans etc. If I am honest I personally thought going green would be way way more expensive as such we very nearly did not research the topic. Well it turns out that it's not. Surprised! I know I was.
Brought to you by paydayloan.co.uk.
Brought to you by paydayloan.co.uk
Infographic: Average Day in the Life of Nursing
Posted: 01 Oct 2012 05:15 AM PDT
By the numbers, a typical work day can be similar for nurses all across the US. The major difference lies within salaries earned by nurses, which directly correlates to the certification or degree any given nurse may hold. Nurses with a Bachelor of Science in Nursing (BSN) degree earn a higher income than do Registered Nurses (RN). Those who advance their careers with a graduate degree in nursing earn an even higher salary.
The increased demand for highly qualified nurses is evident by the rising increase of pay earned each year by nurses with adanced degrees. A larger number of degree holding individuals within the industry benefits patients as well as nurses.
Brought to you by Jacksonville University.
Brought to you by Jacksonville University
Visualization for scientific discovery
Posted: 01 Oct 2012 04:26 AM PDT
Jeffrey Heer on visualization for interactive exploration:
We were visualizing the results of a chain of models, including text modeling and dimensionality reduction. These models can sometimes give rise to misleading results, which we then spotted in the visualization. This result led us to consider how visualizations must do more than just turn data into images — it is vital that visualizations support interactive exploration and verification, so that one can not only uncover new hypotheses but begin the process of assessing their credibility. Another result of this work is that the insights gained from the visualizations enabled us to design better machine learning methods, such that our mathematical models of textual similarity better matched the judgments of human experts.
The rest of the Scientific American article is worth reading, mostly for the other quotes from Heer and Ben Shneiderman.
You are subscribed to email updates from Infographic.tk
To stop receiving these emails, you may unsubscribe now.
Email delivery powered by Google
Google Inc., 20 West Kinzie, Chicago IL USA 60610